How to backup a complete archive of your data
MyWishes helps society make plans for the people and the things that are important to them. In order for us to provide this service, information is entered and uploaded to our platform. Each person's information (data) is owned by them (not us). The information entered is used to generate high quality documents. These include Funeral Wishes, Last Will & Testaments, Advance Care Plans and Social Media Wills.
In order for us to adhere to GDPR standards and best practice, our users are able to download all of their data. They are also able to delete their MyWishes account and all of the information it contains.

Click on the video to learn how to backup and download all of your data.
All our users are also able to download their documents (Last Will & Testament, Funeral Wishes, Social Media Will and Advance Care Plan) when editing and updating each document.
Some of the documents created on MyWishes should be signed and witnessed.
Instructions are provided with each document once generated, downloaded or printed.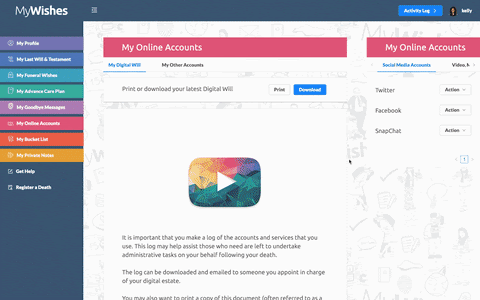 Other tutorials that you might find of value

Michael Sobell Hospice 
Palliative Care Department




Mount Vernon Hospital, Gate 3




Northwood HA6 2RN




United Kingdom


(Map)


Keeping the conversation going…