Overview
More and more people are filming videos of themselves to be shown after their death. These can be hugely powerful ways to both say" goodbye" and leave a lasting video legacy. DeadSocial's free 'goodbye' tool is one way to schedule videos to be shown online after death. Other ways include leaving a video with a trusted party or a solicitor.

Getting started
Things to think about
Be as serious, creative or somber as you see fit. There isn't a right or wrong way to do this. It's your video and should reflect you in today's world. Stuff to think about…
Don't wear thin-stripy shirts, as your video may appear fuzzy when viewed.
Wear something that reflects who you are.
What should I speak about?
What is important to you?
Who inspires you?
Your family history knowledge?
A story that you would like to be remembered and recited?
What is your favourite saying (for example: always look on the Brightside of life)
What are the highlights of your life (so far)?
What are the low-lights of your life (so far)?
Where you and your family are from?
What your life has been like (to date)?
What advice do you have for those you leave behind?
What is your favourite music, art, books, aftershave, sports team?
What are your religious / political views?
What your hopes and dreams are for your friends and family? …or anything else that springs to mind. It's YOUR video and your legacy.
Two very different 'Goodbye' videos
Lawrence Darani
A video by Lawrence Darani passing down some of his own stories and knowledge to help comfort his friends, family and inform future generations of the Darani family.
 To watch more videos by Lawrence and learn from him about creating your own 'ethical will' click here
Carla Zilber-Smith
A video by Carla Zilber-Smith passing down comfort through comedy and a smile
How to leave a goodbye message using MyWishes
Our Flagship 'Goodbye' messaging tool enables our users to send out a goodbye message and a series of scheduled messages. These are only published after the user's death and in accordance with their wishes.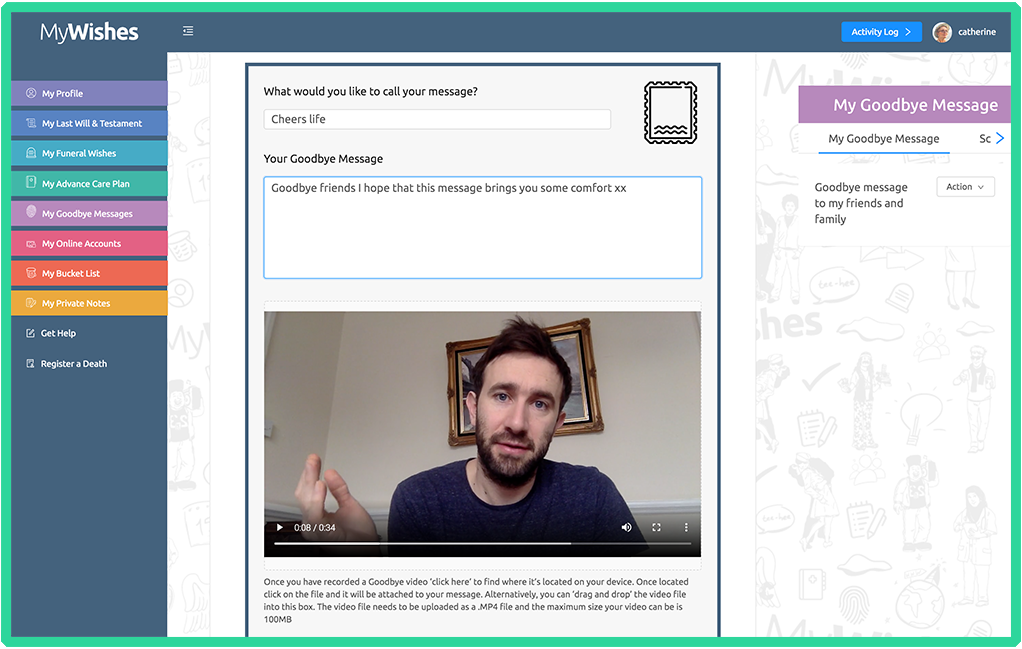 To learn more about this feature click here 
Our funeral planning tool enables users to either write or record a video of themselves to be featured as part of their obituary
To learn more about this feature click here 
What kind of videos will you leave behind?
You can use MyWishes to leave video, image and text messages for your friends and family. Once logged in to the software our step videos will guide and support you if you need it.
Other tutorials that you might find of interest

MyWishes free to use software was developed under the guidance of healthcare, hospice, legal and funeral professionals. To learn more about how MyWishes works click here.