What is a funeral playlist
A funeral playlist is a collection of songs and poems that someone would like to be played, sung or spoken at someone's funeral.

Why should I create a funeral playlist?
If music is an important part of your life you may also place an importance on the the music that is played or sung at your funeral. It takes a couple of minutes to document your funeral playlist on MyWishes and once it has been completed you can share it with your friends an family via email or publicly on your social media channels

Creating your own funeral playlist on MyWishes
It is really easy to collate and share your funeral playlist on MyWishes.
Register and login and go to the my funeral wishes feature.
Click on the 'My Funeral Playlist' section.
You will now be able to add Items to your funeral playlist and state whether or not you would like the information to be public or private. If you set items to private they will not display on your unique, public URL. Furthermore items set as private will not show if shared across your social media sites.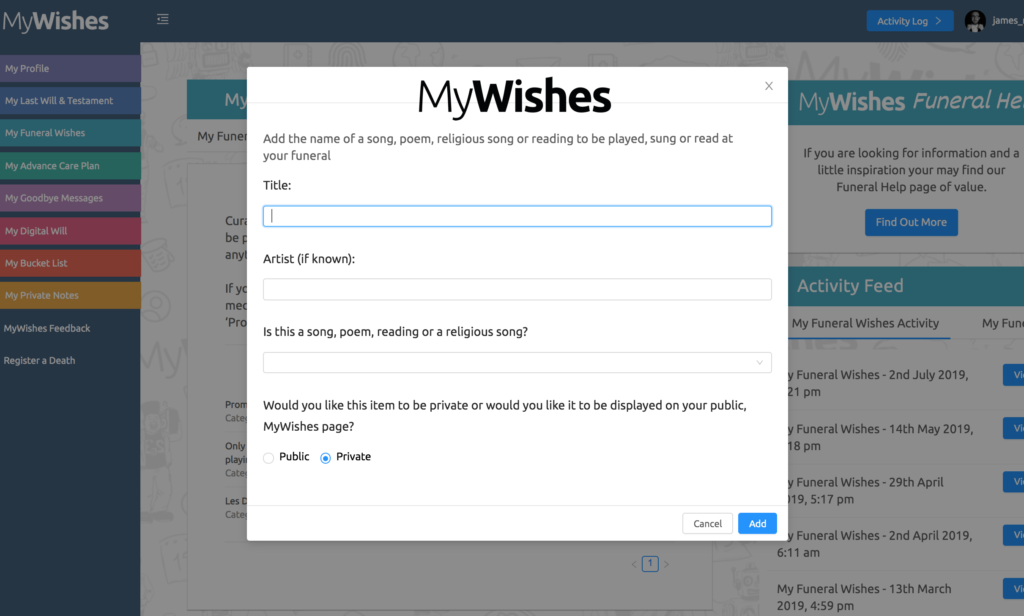 "You may want to add a song from a band you went to see perform, request a friend to perform a piece on the piano or for a family member to read a poem".

Deciding whether to make your funeral playlist public or private
Your funeral wishes document a private document. Your funeral playlist however will be made public by default. If you would like to use the My Funeral Wishes feature but would like it to be private you will need to change the viability of your MyWishes public URL from 'public' to 'private'. A step by step guide showing you how to do this can be found here
Sharing your funeral playlist
Once you have completed your funeral playlist it will be added to your 'Funeral Wishes' document and available to download to the device you are using. The document will download as a PDF and can be attached and emailed to friends and family. You may also want to email your funeral wishes directly to chosen funeral director. By sharing your wishes there are more likely to be adhered to.
You may want to share your funeral playlist on your social media accounts. This might help evoke conversations around the songs that you have chosen and your wishes in general.


Creating and publishing your funeral playlist on MyWishes is free and easy.
Other tutorials that you might find of interest

MyWishes free to use software was developed under the guidance of healthcare, hospice, legal and funeral professionals. To learn more about how MyWishes works click here.